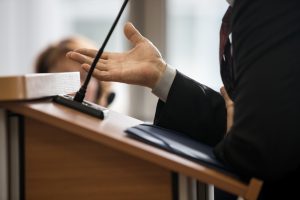 Following General Motors' bankruptcy filing in June 2009, a predecessor of New GM purchased substantially all of Old GM's assets. The sale agreement provided that the purchaser would assume all personal injury or wrongful death related liabilities arising out of accidents occurring on or after July 10, 2009, the closing date of the sale.  The purchase agreement was approved by order of the Bankruptcy Court.
In 2005, Mrs. Pillars lost control of her GM car due to a faulty ignition switch. She suffered severe injuries and was rendered incapacitated, until her death in 2012. Three years later, Mr. Pillars filed a wrongful death suit against New GM in Michigan State Court.
New GM removed the action to Federal District Court, citing language from an earlier iteration of the sale agreement which conveyed liability from Old GM to New GM for a broader set of circumstances than the final operative agreement.
The Bankruptcy Court observed that New GM's citation of language from the old superseded sale agreement was plainly a mistake, but nonetheless ruled that New GM admitted liability for these other occurrences and therefore the stay should be lifted.  Reversing, the District Court held that GM's statements in the Notice of Removal and initial Answer were not "judicial admissions".  The Second Circuit affirmed.
"In order for a statement to constitute a judicial admission it must not only be a formal statement of fact but must also be intentional, clear, and unambiguous…. Bearing in mind this rule, we cannot say that New GM's mistaken citation of language from a non-operative agreement in its initial answer and notice of removal constitutes a judicial admission that New GM in fact assumed the liabilities set forth in language found in the non-operative agreement. It is true that the statement bore sufficient indicia of formality and conclusiveness to constitute such an admission, as it appeared in both an answer and a notice of removal. But our conclusion is informed by the fact that these filings – both done on the same day – contain inherent inconsistencies between the cited language and the actual operative agreement appended to the notice of removal."
In re Motors Liquidation Company, 957 F.3d 357 (2d Cir. 2020).